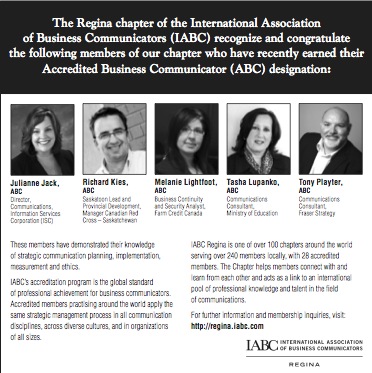 I am delighted to tell you that Tony Playter has earned the designation Accredited Business Communicator (ABC).
This professional recognition is accorded by the International Association of Business Communicators (IABC) for demonstrating a high level of professional expertise, experience, education and ethics. To achieve the ABC designation, a communicator must submit a comprehensive professional portfolio as well as pass rigorous written and oral examinations, all graded by accredited business communicators. The process requires candidates to demonstrate outstanding abilities as a communicator that meet the global standard as established and maintained by the IABC accreditation council.
IABC, with more than 15,000 members throughout the world, is unique in its support and encouragement of communication within businesses, associations, educational institutions, and their internal and external publics.
For Tony, completing this accreditation process not only demonstrates that he has met the global standard, but it also represents a tremendous personal statement of commitment and dedication to his profession. I know you will share our pride in Tony's accomplishment.
Sincerely,
Jennifer Wah, ABC
Chair, accreditation committee