Picture yourself in the saddle, riding a well-trained and calm horse into the boreal forest of a National Park – the Prince Albert National Park. This is where the Hudson's Bay Fur Trading Company had a post in the 1880's. This is a park that was established in 1928 that covers off almost 1500 square miles. This is where the famous naturalist Grey Owl lived out his life. Now, picture you're riding a horse into this very same park and you're looking for wild bison. Yup – you heard right – you're looking to get a glimpse of Canada's only free ranging wild Plains bison still within their historic range. AND these animals are big AND they can be sometimes a little dangerous, but you're going to be all right because you have a guide – a gent that is a 3rd generation rancher, an environmentalist, a guide that knows the area and knows the ecosystem. Christ, this is a guy who has been Mantracker's sidekick  on the Outdoor Life Network – twice! See the video below if you've got an extra 45 minutes!
Gord Vaadeland – Friend of the Wild Bison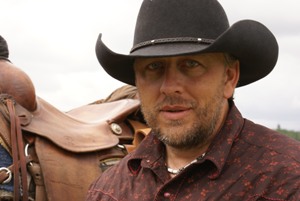 I met Gord Vaadeland at a Tourism Saskatchewan marketing meeting held in the Prince Albert National Park several years ago and right out of the chute (note ranching reference) I knew I had just met a smart rancher – one that understood his tourism business and where it fit in the provincial picture.  Over the past few years Gord and I have spoke often at tourism meetings for the Prince Albert National Park and Big River and we've come to know each other well. We learned that we have many things in common – Gord is a Norwegian descendant and so am I (my Mother's maiden name is Gandrud); Gord grew up with horses and so did I (albeit we were a heavy horse family); Gord can play bluegrass music and I am able to listen to it. Yes, we were indeed kindred spirits. One from the bush – one from the flatland – but both looking to help the tourism industry in our home province.
Since the first time we met I wanted to take the time to spend a day or two with Gord at his ranch and ride into the park form the West Side and look for the bison. Well that finally happened – just last month in October. My bohemian son Corbin (who writes for the award winning travel blog I Backpack Canada) was back home from Halifax visiting such great Saskatchewan destinations as the Big Muddy, Wanuskewin and Manitou Beach and he had planned a trip to the Big River area to see Gord. I tagged along and it was perhaps one of the best decisions I made in a long time.
Gord took us on an adventure through the National Park that allowed us to see two wild bison herds. What a thrill! He certainly got us close – so close in fact that at one point Gord held our horses whilst Corbin and I trekked softly into the woods where we were barely 25 yards away from six of these magnificent animals. We did however flee the area quite quickly when they started to rustle. You see the bison tend not to walk around the trees – they opt instead to bowl them over, which makes a phenomenally loud sound when you are in a pristine forested area. Still – it was awesome! What a thrill! (Did I say that already?)
Sleeping in a Tipi
This ride confirmed my suspicions that there are great adventures awaiting us right here in Saskatchewan. We rode on what could be one of the most beautiful autumn days you can imagine; we had lunch in an area called the Long Meadow and that night we were treated to the culinary offerings of "One Pot Bill" and the good folks at Ness Creek. They even had a place for us to sleep – in a traditional dakota Tipi.
Gord gets tourism, and he is on top of how to share his genuine Saskatchewan adventure.  Gord is quickly becoming a social media gunslinger and can be found on his website at Sturgeon River Ranch or on Facebook . His Twitter handle is @GordVaadeland – check him and the Sturgeon River Ranch out – you'll be glad you did.