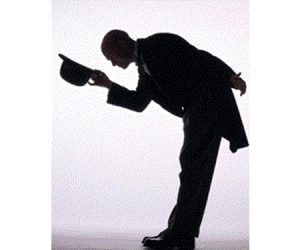 For contemporary English-speaking theater people, the ritual greeting of "Break a leg" has a truly benign origin. Much earlier in stage history, when superstition had a less frightening hold on the craft, actors and their followers used a more gracious greeting: "May you break your leg," by which it was meant that the evening's performance would be of such grandeur that the actor would be obliged to break his leg – that is bend his knee – in a deep bow acknowledging the audience's applause.
Breaking a leg is considered a gracious act in the thespian community and I would like to think that on Friday, February 1st that I broke my leg playing hockey with grace and dignity. As a matter of fact, when my right skate blade got caught in a rut as I was attempting to maneuver around another player, I truly believe I went down to the ice in a heap of pain with nothing but grace and dignity – and perhaps the odd "ow, that really hurts." (I ask that you not call the old dudes I play hockey with on every Friday afternoon for they may not agree with this assessment).
I will not go into the details too much but the result of this high-speed accident on ice was that I fractured my fibula below the knee and completely wrecked (see image) my right ankle. I ended up having surgery and screws inserted into my ankle and just recently got off my crutches after six weeks of no weight at all on my right leg.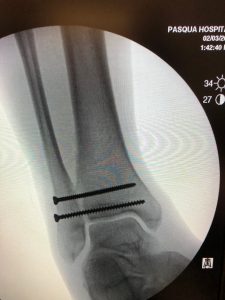 So what is the benefit of breaking a leg, you may ask? It is appreciation….period. In the time I had recovering I have discovered 3 areas of appreciation that I would like to share with you.
1. Appreciation of my Friends
The gentlemen I play hockey with are a group of individuals that come from a variety of backgrounds and range in age from 25 to 65. This group gathers three times a week in the winter months and we throw sticks before each and every game. We have a core group of about eighteen that show up to almost all the games. Here, one game we will play against each other and the next game we may be playing on the same team. We work hard against each other; we get a great workout in a hockey environment where there is no BS and plenty of laughs.
These dudes are my best friends. They are always there for you. When my Dad died in late 2012 they came over to the house with a gigantic meat, cheese and bun tray just to help the family out. They are "salt of the earth" kinda guys – and they are assholes. Assholes in the best kind of way. I too am an asshole when around these gents. We have a rule that you must "check your feelings in at the door" when entering the dressing room. And this rule never stops…keep reading…
When I broke my leg on that fateful Friday, the boys knew I was hurt bad. They helped my off the ice into the dressing room and left me there while they finished the game. I agreed that this was the right move as I was feeling sick and needed time to slowly take off my equipment. When the game was over and the boys returned they expressed concern; helped me pack my bag and proceeded to let me know that I sounded like Nancy Kerrigan as I was down on the ice…"why?" "why?" "why?". I, of course, laughed as this was exactly the kind of incredible wit that one expects from this group.
The boys have been in constant contact with me and have made me feel part of the group even though I may not be with them on the ice. I appreciate them.
2. Appreciation of Family at home and at work
Based on the fact that I broke my right leg, I have been unable to drive for over 6 weeks. This is where family kicks in beginning with my wife who I shall affectionately refer to as Uber 1. Uber 1 has been there every day and has driven me to work, to appointments, to the bank, to stores, to hockey rinks and pretty much everywhere I normally would go. Uber 1 says she deserves a trip somewhere as repayment – she may be right.
My Uber list went as high as Uber 6. Uber 2 and 3 were my business partners, Mike and Tony. Uber 4 was business associate Jeff DeDekker. Uber 5 was son Payden. Uber 6 was my buddy Mike Wiens and anyone else who took care of the gimp (as I was affectionately known as). I appreciate the Uber network.
My family at Kodiak Property Management were more than accommodating and went out of their way to make sure I was taken care of. They are a great group of caring people that understood that I was not as agile as I normally pretended to be. I appreciate the work family.
3. Appreciation of the Work I do
There is no doubt that breaking a leg prohibits you from doing much so I have spent a lot of time in my home office. I honestly have been kicking some proverbial ass in terms of getting work done. I won't say that I am totally caught up on work both professionally and personally BUT I will say that I am not as far behind. This is a good thing. In addition, it has given me to the time to set some goals, one of which is to write more and this blog post is the first of many to come. I appreciate the time to focus.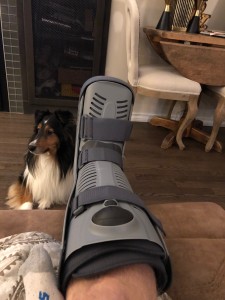 Who knew? Who knew that breaking a leg would be of great benefit? It allowed me the time to slow down and appreciate – appreciate things like friends, family and the work I do. All these things can easily be taken for granted and they should not be.
In closing, to those out there that are burning the candle at both ends; working hard and trying to make sense of it – I wish you the very best. To you fast-paced people I wish for you to "break a leg" – in the end you will appreciate it and then you will truly take a bow.