I left my cushy job as a VP of a very large ad agency over 4 years ago – at about the same time that I came to the realization that the marketing environment was changing. Changing very quickly. This was due to the increasing utilization of the internet – a phenomena that has grown exponentially since the day I started out on my own in 2007.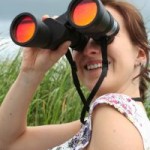 The advent of social media platforms connected to fully optimized websites has changed the way any product or service can reach its intended audience – no matter how defined that audience is. In the tourism industry for example, bird-watchers now have dedicated blogs and those that are interested in birding follow birding sites, look for blog posts, and search for Twitter hashtags that pertain to their passion. Now those enigmatic great birding locations (like the Last Mountain Bird Sanctuary in Saskatchewan) can send out their message in an efficient, economical way and build their locale into a birding destination simply by telling their story. They will be found online by passionate birders. This, in turn, will increase visitation to their property.
This phenomenon is not just contained to the industry of tourism – all businesses need to establish their online presence as the foundation for all of their marketing efforts.
Companies are recognizing the shift in marketing practices.
Advertising Age Magazine reports that more than half of the marketers surveyed said that effectiveness of direct mail, TV, magazines, outdoor, newspapers, and radio would stay the same or decrease within three years. In contrast, well over 70% expected the effectiveness of channels like social media, online video, and mobile marketing to increase.

A recent Ipsos-Reid Survey found that 70% of marketers in North America are using search engine marketing and search engine optimization. This is up from 56% just two years ago. It also states that Canadian and US marketers appear to have increased the rate of adoption of the digital world. Here over 66% of senior managers are very interested in digital marketing which is an increase of 10% since last year. The rate of adoption is compounding as marketers race to understand the digital online tactics.

The same Ipsos-Reid Survey reported a jump from 35% last year to 52% of all marketers now using social marketing sites as part of the overall marketing approach. The study showed that 36% of Canadian and US marketers believe that "spending on TV will decrease over the next two years, " – reflecting the sentiment of a shift in marketing budgets from traditional (radio, print, television) to digital (online, e-mail, mobile).

In addition, the Forrester Research/Association of National Advertisers proclaims that 62% percent of companies say TV ads have become less effective in the past two years due to increased advertising clutter. Of those surveyed, 77% said they would be moving TV dollars to social media this year; 73% plan to shift money to online advertising, and 59% will be spending more on search-engine marketing and 46% on e-mail marketing. Only 15% said they plan to increase spending in traditional media such as radio, outdoor billboards, magazines or newspapers.
We've Got a Long Way to Go.
The following graph by Morgan Stanley equates the time spent on available forms of gathering data versus the ad dollars spent and it clearly shows the real opportunity lies within the online initiatives.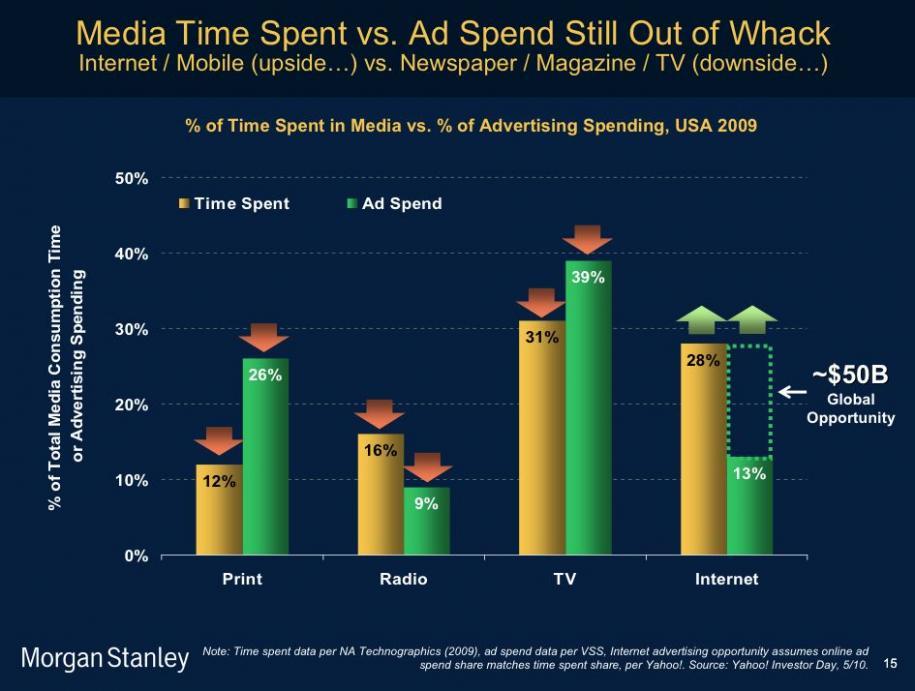 The lesson here is quite simple – and I repeat – all businesses need to establish their online presence as the foundation for all of their marketing efforts.
Does this mean that we do not require traditional forms of advertising?
The answer is an emphatic no but the strategic direction of these tactics have to adapt to the new Marketing Environment.
More to come in forthcoming posts – stay tuned!